Smoking cessation has increased during the past few years. To assist them stop smoking, many people have resorted to alternatives like nicotine pouches. FRĒ offers a variety of flavors and strengths to fit your preferences if you're searching for a quick method to try high-impact all-white nicotine pouches.
FRE Pouches
FRE is a well-known nicotine pouch brand that has grown significantly in popularity in recent years. These pouches are made to provide a pleasurable nicotine experience without any of the negative consequences of smoking or using chewing tobacco. FRE pouches are a flexible option for customers because they are available in a number of flavors that cater to various preferences.
The convenience of FRE pouches is one of its key advantages. These pouches don't need to be prepared beforehand like traditional tobacco products do, such as rolling or packing. Users only need to put the pouch in their mouth to get their nicotine fix.
Additionally, FRE pouches provide a discrete and smoke-free way to consume nicotine. They are ideal for settings like public spaces, places of employment, and homes with young children where smoking or chewing tobacco is prohibited.
Users can select the FRE pouch flavor that best suits their preferences thanks to the variety of flavors available. Every flavor—from wintergreen to sweet to mint—offers a distinctive experience that satisfies the urge for nicotine. FRE packets also available in a range of strengths to accommodate varying nicotine sensitivities.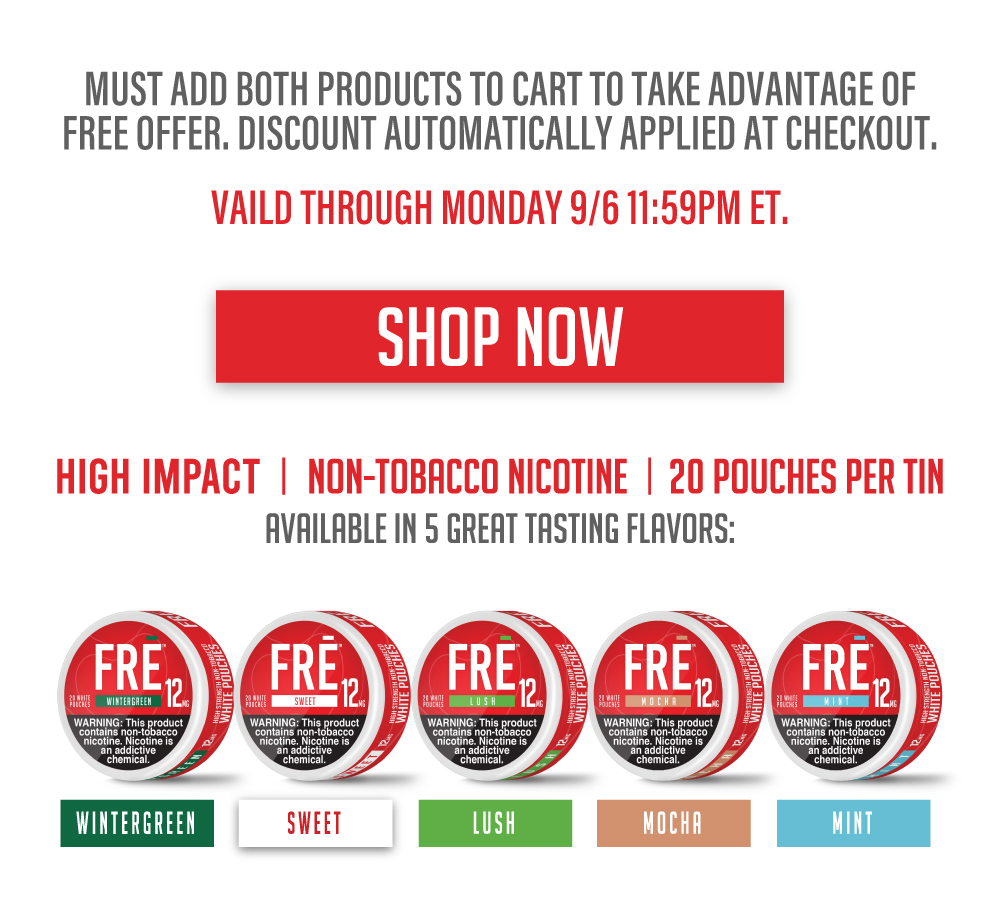 To make the best nicotine pouch, FRĒ has done away with pointless filler substances and used quality materials. The flavored oral white nicotine pouches come in three strengths—9mg, 12mg, and 15mg—and four delectable flavors: Wintergreen, Mint, Sweet, and Lush.
The fact that FRĒ nicotine pouches are smoke- and mess-free is one of their most notable benefits. They are little in size but have a huge impact, and you can enjoy them almost anyplace. All you need to do to be prepared for up to 45 minutes is put a pouch beneath your upper lip. It's a simple, discrete, and easy process.
FRĒ has you covered if you're looking for a strong and prolonged white nicotine pouch experience. When compared to other nicotine pouches on the market, they provide a balance of more quantity and superior quality. The finest ingredients used in the all-white flavored nicotine pouches include nicotine, sweeteners, water, and flavors.
For those who are savvy shoppers, FRĒ offers a jumbo tin of 100 pouches, making them a fantastic option to keep around the house, the office, or wherever else you spend time. Keep your little FRĒ tins for use while travelling and on the road.
With so many flavored nicotine pouches on the market, it can be difficult to decide which flavor and strength to use. But at FRĒ, they place a strong emphasis on never sacrificing quality. They create tried-and-true flavors that their consumers adore using only premium ingredients and sweeteners. Choose Your FRĒ Pouches Flavor:
Wintergreen Nicotine Pouches:
FRĒ Wintergreen Nicotine Pouches offer a smokeless and tobacco-free alternative that provides a medium-strength nicotine hit and a pleasant wintergreen flavor. Each pouch is discrete and convenient, making them ideal for usage while travelling or when you want to experience nicotine without inhaling smoke or vapor. These pouches are an excellent option for folks who wish to try nicotine pouches because wintergreen is a flavor that many people like and are in demand.
Sweet Nicotine Pouches:
If you're looking for a sweet and tasty choice that yet provides a nicotine hit, FRĒ's Sweet Nicotine Pouches are ideal. The pouches are simple to use, tobacco-free, and smokeless. For individuals who prefer to enjoy nicotine without the harshness of smoke or vapor, they are available in a number of sweet flavors, including berry, peach, and apple. Additionally inconspicuous and practical, these pouches are excellent for use in any circumstance.
Lush Nicotine Pouches:
FRĒ 's Lush Nicotine Pouches provide a distinctive and energizing solution for those who prefer nicotine. These pouches don't produce any smoke or vapors, only a blast of flavor and a medium-strength nicotine dose. For individuals seeking a pleasant and energizing nicotine experience, they are ideal because they are available in a variety of fruity flavors like citrus, berry, and mango. The pouches work well in any circumstance and are also discrete and simple to use.
Mint Nicotine Pouches:
FRĒ 's Mint Nicotine Pouches are a traditional choice for those who like a minty and energizing nicotine experience. These pouches give a potent nicotine punch without producing smoke or using tobacco. For individuals who prefer to enjoy nicotine without the harshness of smoke or vapors, the pouches, which come in a range of mint flavors like peppermint and spearmint, are ideal. These pouches work well in every circumstance and are also stealthy and simple to use.
The 9mg, 12mg, and even 15mg alternatives are ideal for you if you're an experienced nicotine user or want a really potent boost of strength. The gentler dosages of 3mg and 6mg, however, are more suited if you have lower tolerance levels or are just getting started with nicotine.
Comparing FRĒ nicotine pouches to conventional nicotine products, there are many advantages. They are more efficient, hygienic, and sociable. When moving, they are discrete and leave no smell or mess. By purchasing their tins, you may purchase their high-quality goods in quantity and receive discounts of up to 30%.
Conclusion
FRE nicotine pouches are the way to go if you want a smoke-free, hassle-free, and mess-free all-white nicotine pouch experience. They offer a variety of flavors, strengths, and bulk pricing to suit every taste and price range. When purchasing their flavored nicotine pouches online within the United States, purchases over $40 will receive free shipping.